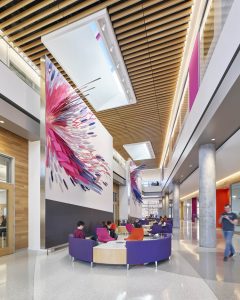 The Interdisciplinary Life Sciences Building (ILSB) is a a center for interdisciplinary research, active/applied learning, innovation, and inspiration. The ILSB provides many opportunities for integrating research, teaching, and learning across departments and colleges in support of our mission of student success and expanding research in areas of strategic importance to the state. Please take a virtual tour of the ILSB to experience its vision.
Containing 130,000 gross and 70,000 net assignable square feet, the facility contains nearly 700 classroom and study seats, and research laboratories for over 20 principle investigators.
UMBC was established upon the land of the Piscataway and Susquehannock peoples. Over time, citizens of many more Indigenous nations have come to reside in this region. We humbly offer our respect to all past, present, and future Indigenous people connected to this place.